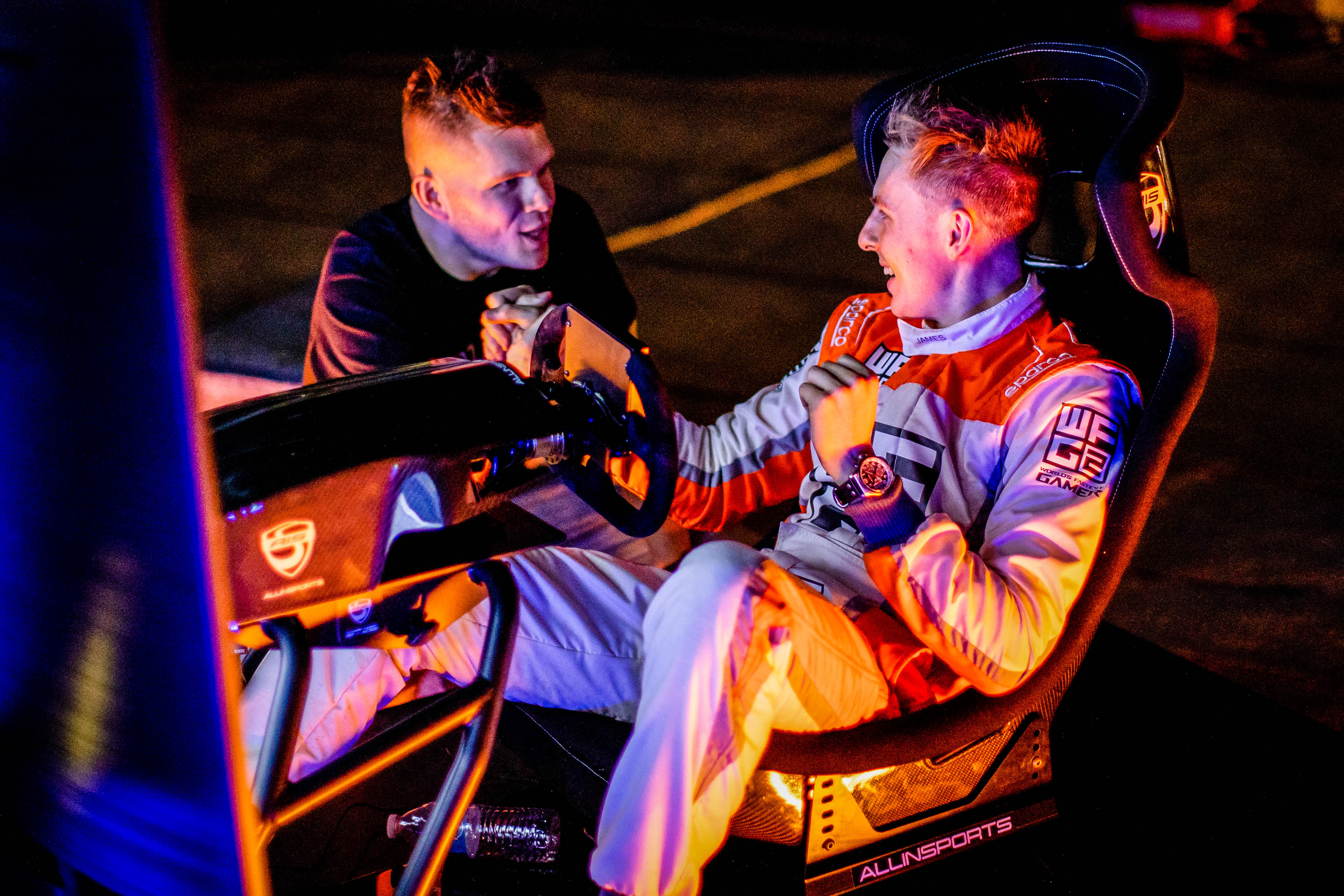 #WFG1 winner Rudy van Buren to fight at the Carrera Cup Deutschland finale in Oschersleben
James Baldwin back on track representing #WFG2 at Silverstone as he fights for the British GT title
F1 World Champion Jenson Button to make his GT3 debut at Silverstone in second McLaren entry
SILVERSTONE, UK and SAXONY-ANHALT, Germany (Thursday, November 5, 2020) – Both #WFG1 and #WFG2 winners will be contesting their final races of the 2020 season this weekend with season one champ Rudy van Buren tackling Oschersleben in Porsche Carrera Cup Deutschland and season two winner James Baldwin competing in British GT at Silverstone.
World's Fastest Gamer was created by IDEAS+CARS in 2017 with van Buren taking the win in the first season and Baldwin winning last year.
For Baldwin, the final race of the year presents a chance at claiming the British GT title in his first full year of professional motor racing – just a year after claiming the title of World's Fastest Gamer after a strenuous two-week trial in California and Nevada.
Baldwin and co-driver Michael O'Brien won on debut for Jenson Team Rocket RJN in the No. 2 McLaren 720S GT3 and have scored two further podium finishes in the subsequent races. Their performance currently nets them fourth in the drivers' standings with just one race to go. However, the duo would need to pull off a victory, while their rivals struggle, to claim the title.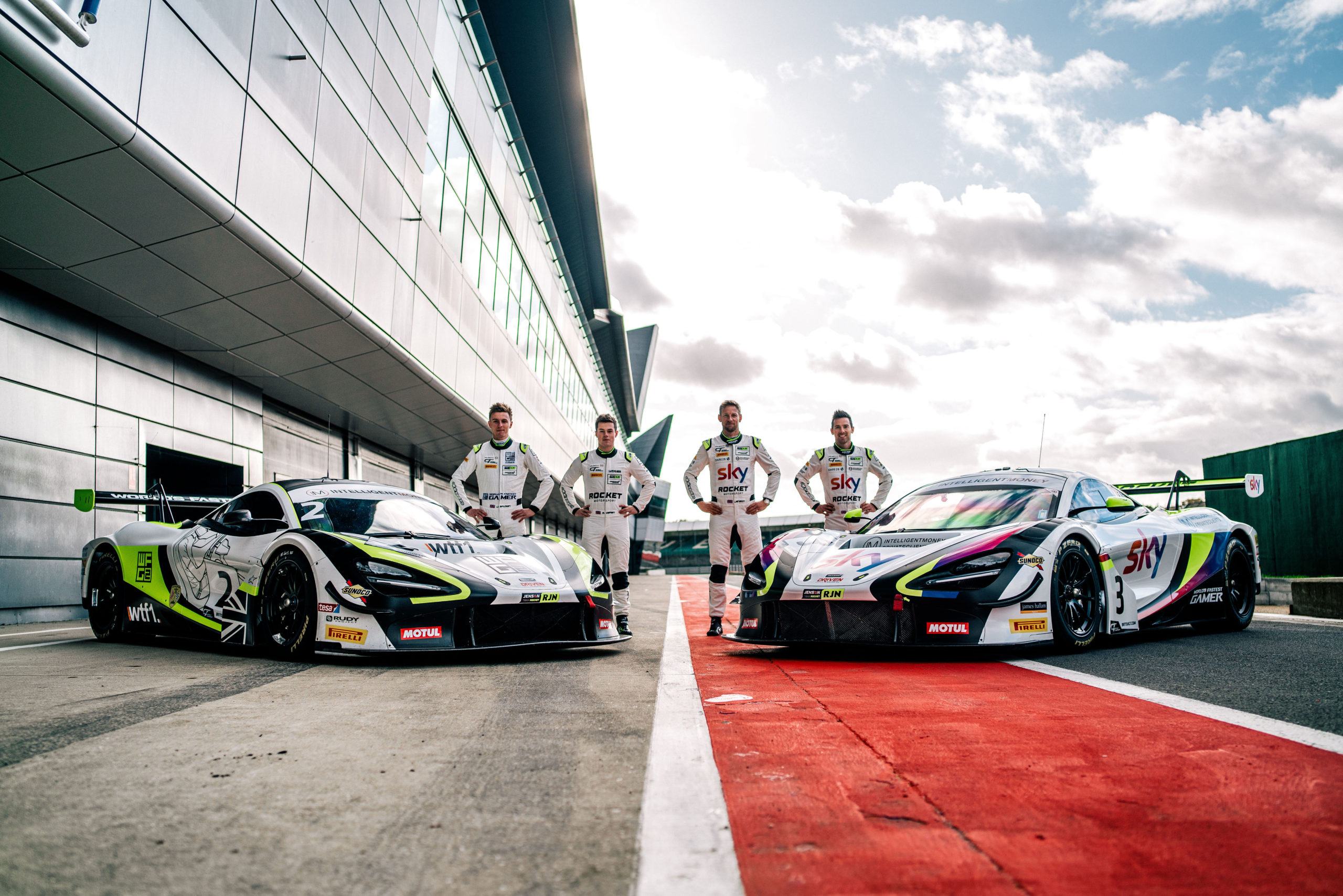 The No. 2 crew will have some extra assistance this weekend. 2009 Formula 1 World Champion Jenson Button makes his GT3 debut this weekend in a sister McLaren 720S GT3 alongside Chris Buncombe. The F1 champ and co-owner of Jenson Team Rocket RJN will be driving in a Sky Sports and World's Fastest Gamer-liveried No. 3 McLaren.
"James has undoubtedly impressed us all within the team with his pace from the first time he jumped in the car," Button said.
"He has also been open and willing to learn through the season and has approached his racing with the right attitude, building his experience race by race without putting a foot wrong. We look forward to seeing what he can go on to achieve in the future."
Over in Germany, Rudy van Buren will be competing in the final round of the Porsche Carrera Cup Deutschland championship—looking to improve on a string of impressive results over the season.
Continually improving with each subsequent weekend in his first full year in the series, van Buren led his first laps at a damp Lausitzring and took a season-best fourth place finish in the second race of the weekend.
Van Buren is chasing his first podium in the series-ending double-header to carry positive momentum into the offseason as he looks towards 2021.
"This has been a crazy year for both James and Rudy with delayed calendars in both series because of COVID-19," IDEAS+CARS founder, Darren Cox said.
"I know both guys went through a lot of anxious weeks waiting to see if they were going to be able to get on track.
"Since their first green flag however, both guys have been exceptional on track and really showcased that motorsport talent in the virtual world can transfer to the race track. Both guys are looking forward to finishing their seasons on a high note and we'll be cheering loudly for them – we're very proud of what they have achieved this year!"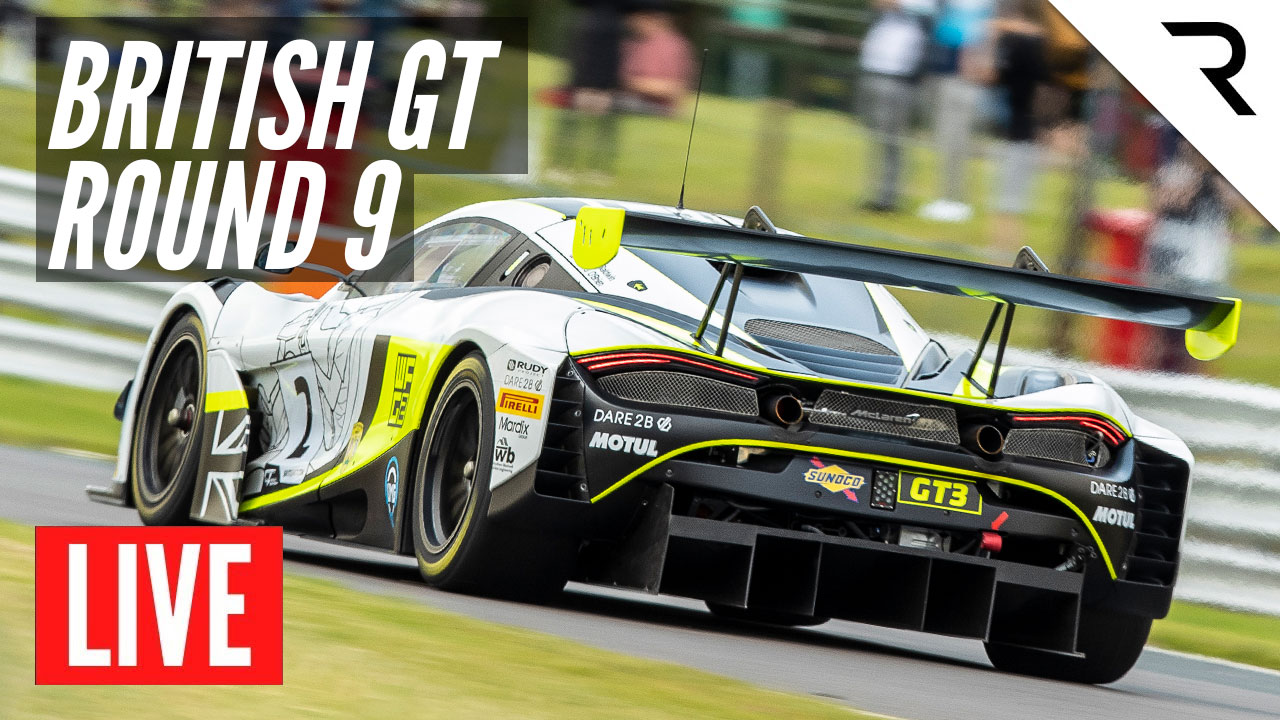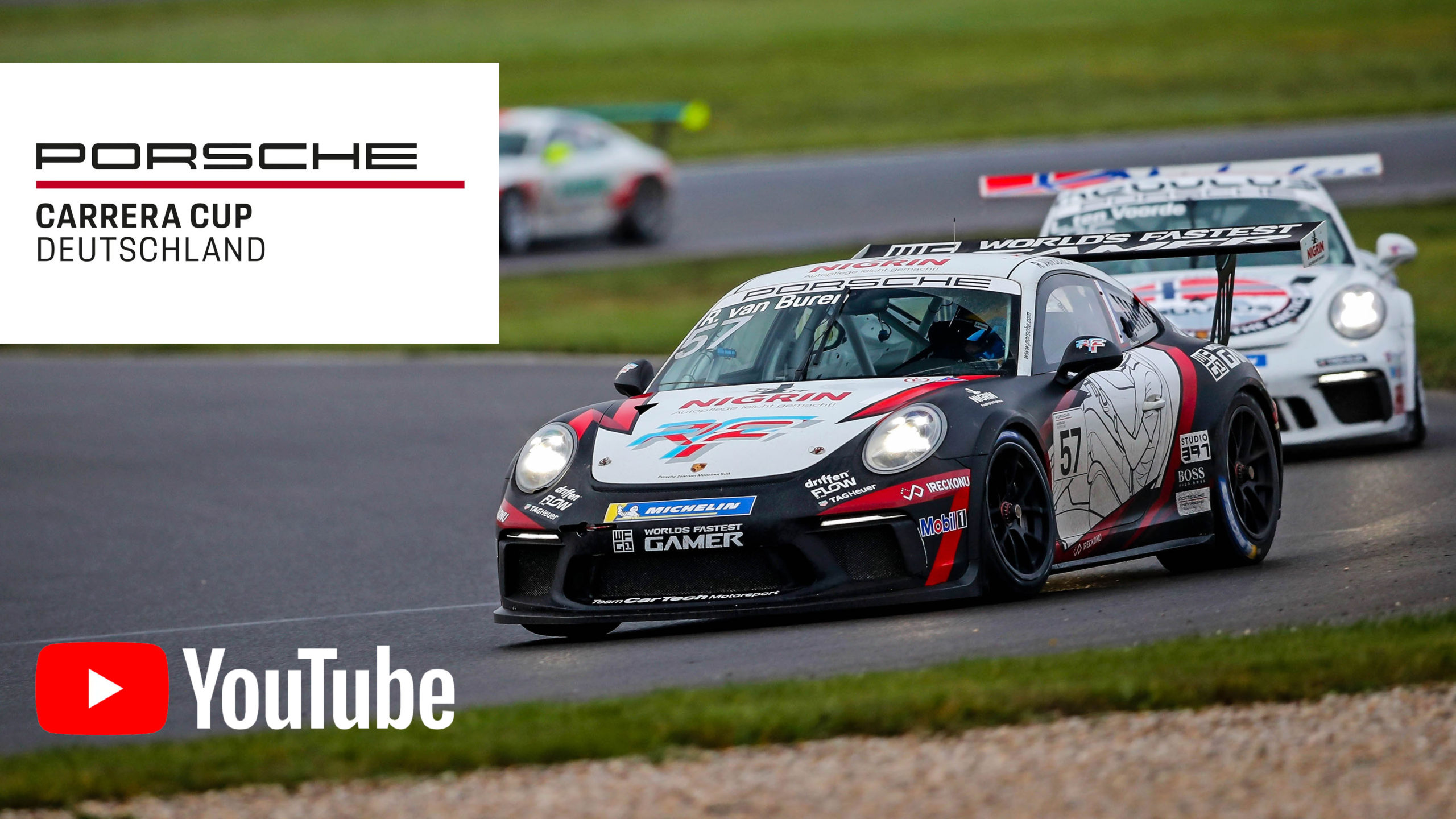 JAMES BALDWIN Q&A
Q: Working with Jenson Button all season must have been a cool experience for you, but how excited are you to be on track with him and sharing a garage with him this weekend?
A: "I met Jenson on the media day when the first announcement was made, and it's been so cool to work with him all season. He's just such a good bloke.
"Obviously he's an F1 world champ, so he brings so much knowledge to the team, and he's also a celebrity, but when you speak to him, he's completely normal. He's very down to earth and just like a guy you'd speak to down at the pub! He's very nice.
"Jenson and Chris both tested this week at Silverstone and did a shakedown. It was soaking wet, and Michael and I went and helped. Not so much driver coaching, because Jenson Button definitely knows how to drive a car! But helping with little specific things on the McLaren 720S GT3.
"We had a debrief after the test day with the engineers and that was really interesting to sit in on. He goes through every single detail, and can talk through it so well, to find improvements. He was getting into everything from the seating position in the cockpit to how the car feels on track.
"I think it's something that comes from experience, but it's definitely a benefit to have him around and to be able to talk to him and get that insight."
Q: Silverstone is obviously an iconic circuit, how much would it mean to potentially win the championship there?
A: "I'm really excited to race at Silverstone. It's definitely the biggest-deal track that we get to go to this year as the only current Formula 1 track. I think it just shows you how important of a track it is with so much history there. For the championship, I would love to win it at Silverstone.
"It will be tough, but it's possible. And the fact that it's possible means that myself and the rest of the team, we all believe it can happen.
"We need to win to make it happen, so that's our prime focus. We want to put on a good show and win the race! If it's dry, I think we have more of a shot of doing that given that our pace in the wet is not quite where we want it to be.
"We're improving in the wet, but I think we need a little more time. So, if it's dry, I think we have a good chance of getting pole and taking the win – hopefully things go wrong for some of our rivals!"
Q: One year on from winning #WFG2, looking back on this last year, how do you feel about it all?
A: "It really doesn't feel like a year ago! It feels like it was yesterday sometimes. It's been a pretty mental year since, and I've been thrown in the deep end so many times this year. It's really cool to see all the steps we've made in such a short space of time. "The test in Paul Ricard – that was really in the deep end. After that, I felt like I learned a lot. And then it was the same feeling again when we went to Oulton Park for round one.
"World's Fastest Gamer itself was really difficult, and I think that helped prepare me for this year. I just managed to get the win over some really talented sim racers, and they've gone on to do some really cool things since World's Fastest Gamer as well.
"I follow them and what they're doing, and I know they keep tabs on me and we talk from time to time.
"Seeing Sebastian Job win the world championship in iRacing was awesome, that's massively elite. Max Bennecke reset the iRacing rating record yet again. Mitchell de Jong has been winning every rallycross event there is under the sun. Everyone is doing so well and it just speaks to what a great level of talent there was in World's Fastest Gamer 2."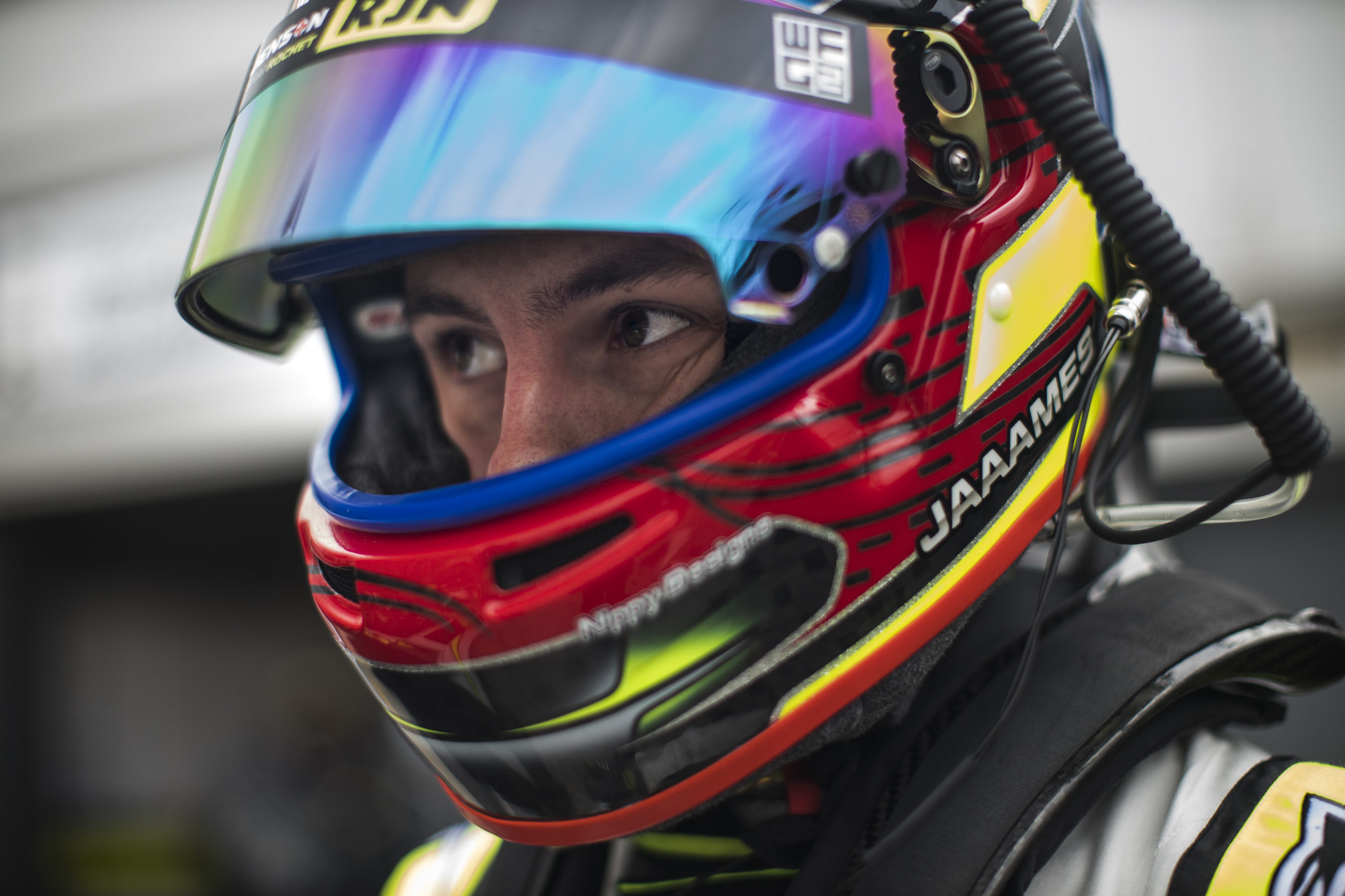 RUDY VAN BUREN Q&A
Q: How much are you looking forward to finishing on a high note at Oschersleben this weekend – a track you have won at previously.
A: "I won in Porsche Sports Cup at Motorsport Arena Oschersleben earlier this year, and finished third in the second race despite an overheating engine, as it was a very hot day.
"But, this weekend, it will be really different conditions. I think that being cold will benefit the balance of the car for us.
"I am really hoping I can replicate the results from last weekend at Lausitzring or even improve a little bit on our pace there. The weather will be different because it will be dry, so I think just replicating those results in the dry conditions will be an improvement.
"At Red Bull Ring, the last weekend we ran in the dry, we were struggling a little bit in the last race, but we think we know what the problem was and we adapted.
"If we can do like we did last weekend and qualify on the first two rows and finish in the top four as well, it will be a good weekend."
Q: With one race to go, how would you rate your season so far?
A: "One thing has always been constant about my expectations since the beginning of the year and that has been that this year would be an uphill battle against people who have far more experience in these cars than I do.
"They've done Carrera Cup or Supercup in a car they know inside out. My inexperience definitely showed at the start of the year. Le Mans was rough, and it would have definitely been better without the spin.
"But, we moved on from that and continued to improve. Then we went to Sachsenring where we spent most of the weekend seventh and eighth, so we made up some ground, but still a big gap to the front.
"Red Bull Ring, we closed that a little bit and at Lausitzring we took another step and chipped away at it even more and even led some laps. I think that the main thing for us this year has been making progress, not just with the car, but with myself.
"Whatever the starting point was, I needed to improve as a driver during the season, and I think the results to this point clearly show that.
"I expect the same this weekend for myself, to take another step forward and accept the process of learning and prepare myself as well as I can for next year. I can use that as extra knowledge going forward and get better and better results. I think overall the year has been really positive looking at where we came from until now."
Q: How has the simulator and sim racing helped you prepare for your Carrera Cup drives this season?
A: "With Carrera Cup running on such a different number of types of tracks, different variations require different driving styles, and that's where the sim is very beneficial for me.
"Just doing the initial practice on the sim helps to show you the quickest way around the track. It will never be exactly the same as on-track because the conditions are always changing, so you can't go chasing the ultimate setup on the sim, but you can get close and you can find out what direction you need to go in and save yourself that track time to really fine-tune.
"It's helpful as a driver to find the fastest line around a track and to figure out how to approach different sequences of corners to maximize your lap time and that's incredibly beneficial."