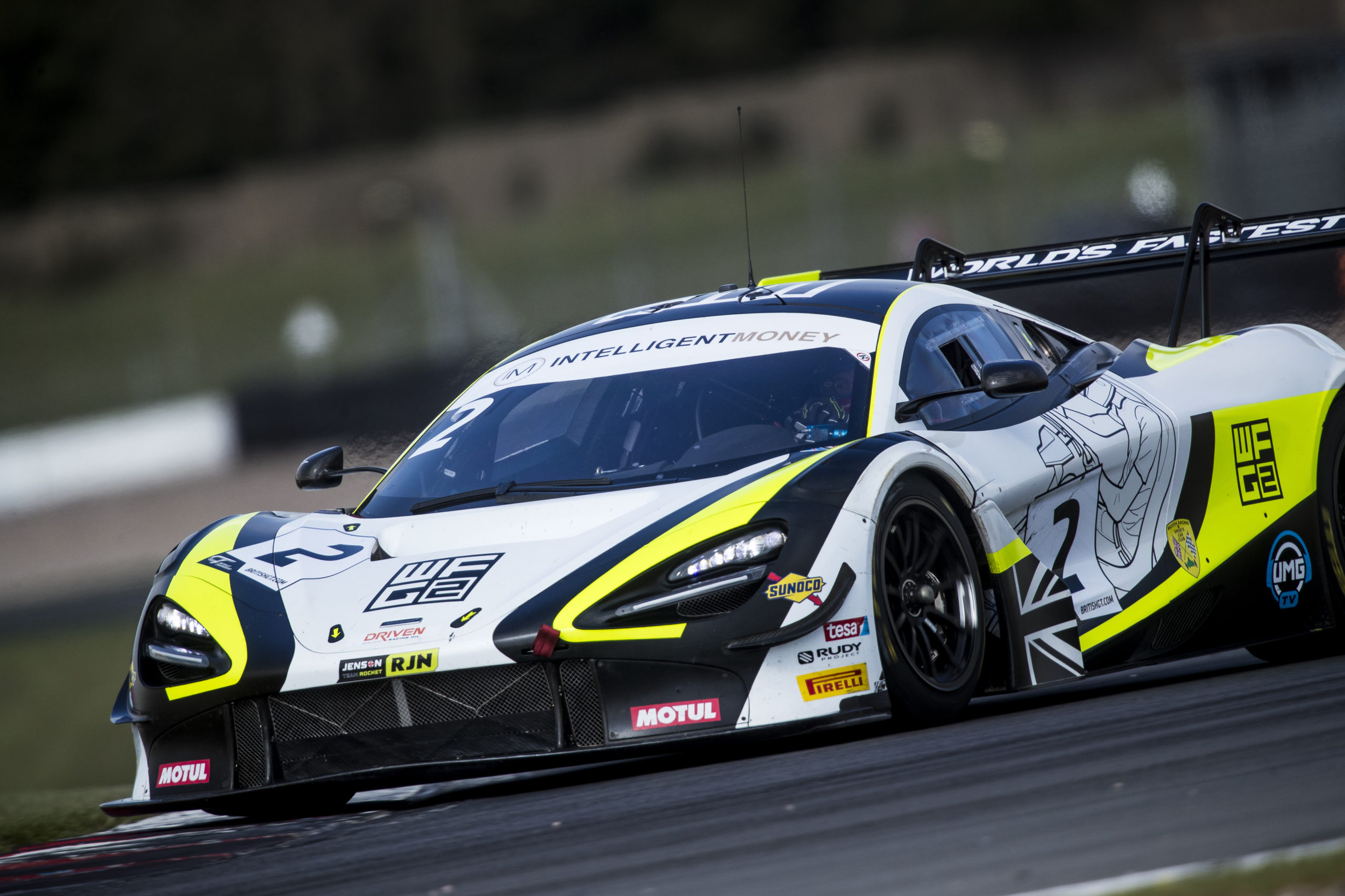 Engine Media's World's Fastest Gamer stars showcase their virtual skills in the real world
#GamerToRacer concept showcased in the UK and Germany
Oberlungwitz, Germany and Norfolk, UK (Thursday, October 1, 2020) – World's Fastest Gamers James Baldwin (Season 2) and Rudy van Buren (Season 1) will be back on track this weekend as Baldwin competes in the penultimate weekend of the British GT Championship and van Buren in the second round of Porsche Carrera Cup Deutschland season.
Run by Engine Media's IDEAS+CARS group, the World's Fastest Gamer competition brings together the best of the best from racing esports with gamers from PC, console and mobile games competing to showcase their skills on track.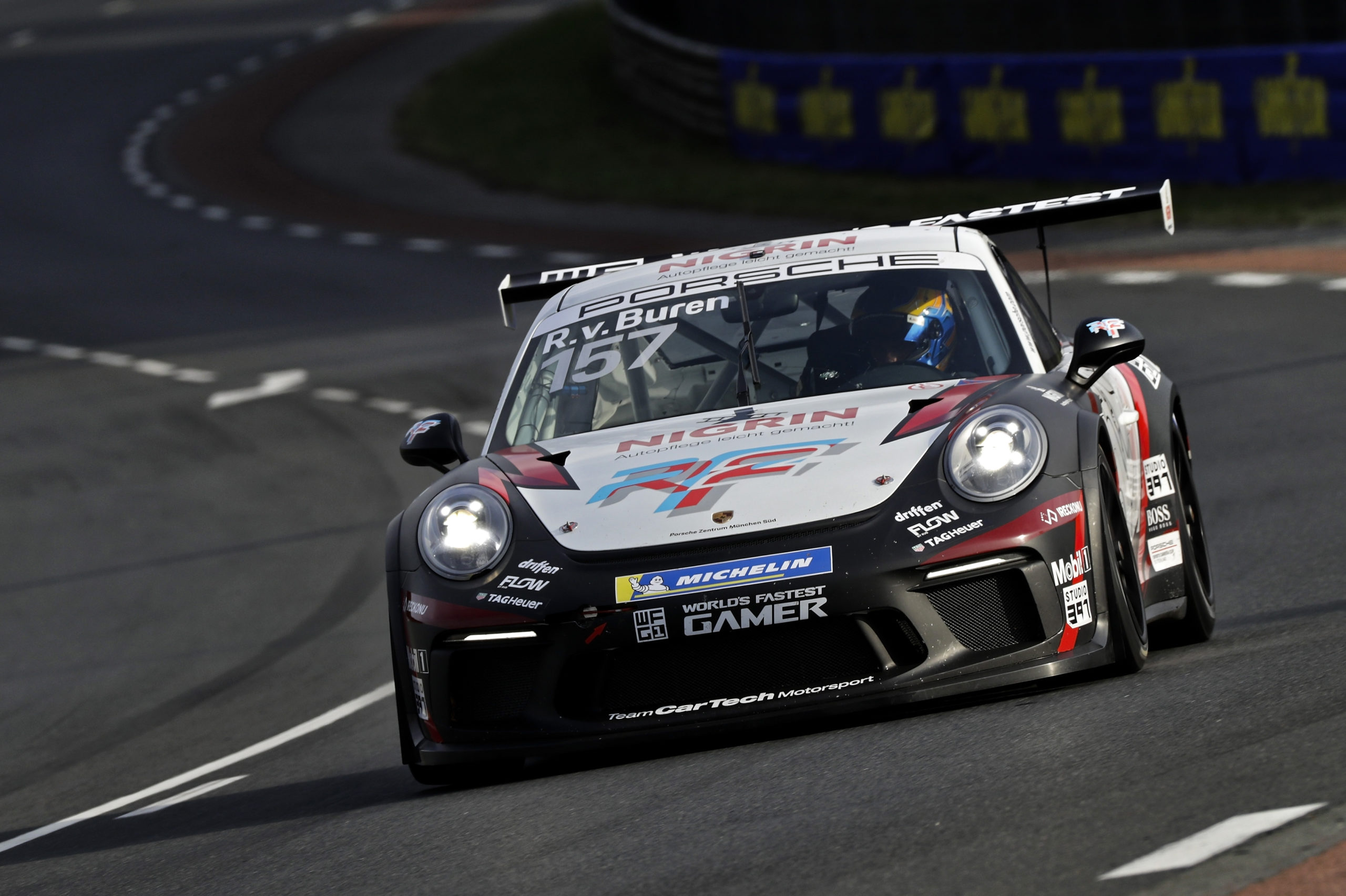 For World's Fastest Gamer series 1 winner van Buren, the three-race weekend at Sachsenring represents a chance to bounce back after his 2020 debut at Le Mans. Despite working his way through the field at the start of the event, late-race contact ultimately took him out of contention for a top 10 overall in the 50-plus car field.
Van Buren and his CarTech Motorsport team tested at Sachsenring in the interim between races to get the car dialed in for the weekend.
Baldwin, on the other hand, is nearing the end of his British GT season aboard his McLaren run by ex-Formula 1 World Champion Jenson Button's team.
Sitting fourth in the championship with co-driver Michael O'Brien (21 points out of the lead) Baldwin is hoping this double-header weekend at Snetterton will propel the two of them into the thick of the championship fight going into the final race of the season at Silverstone.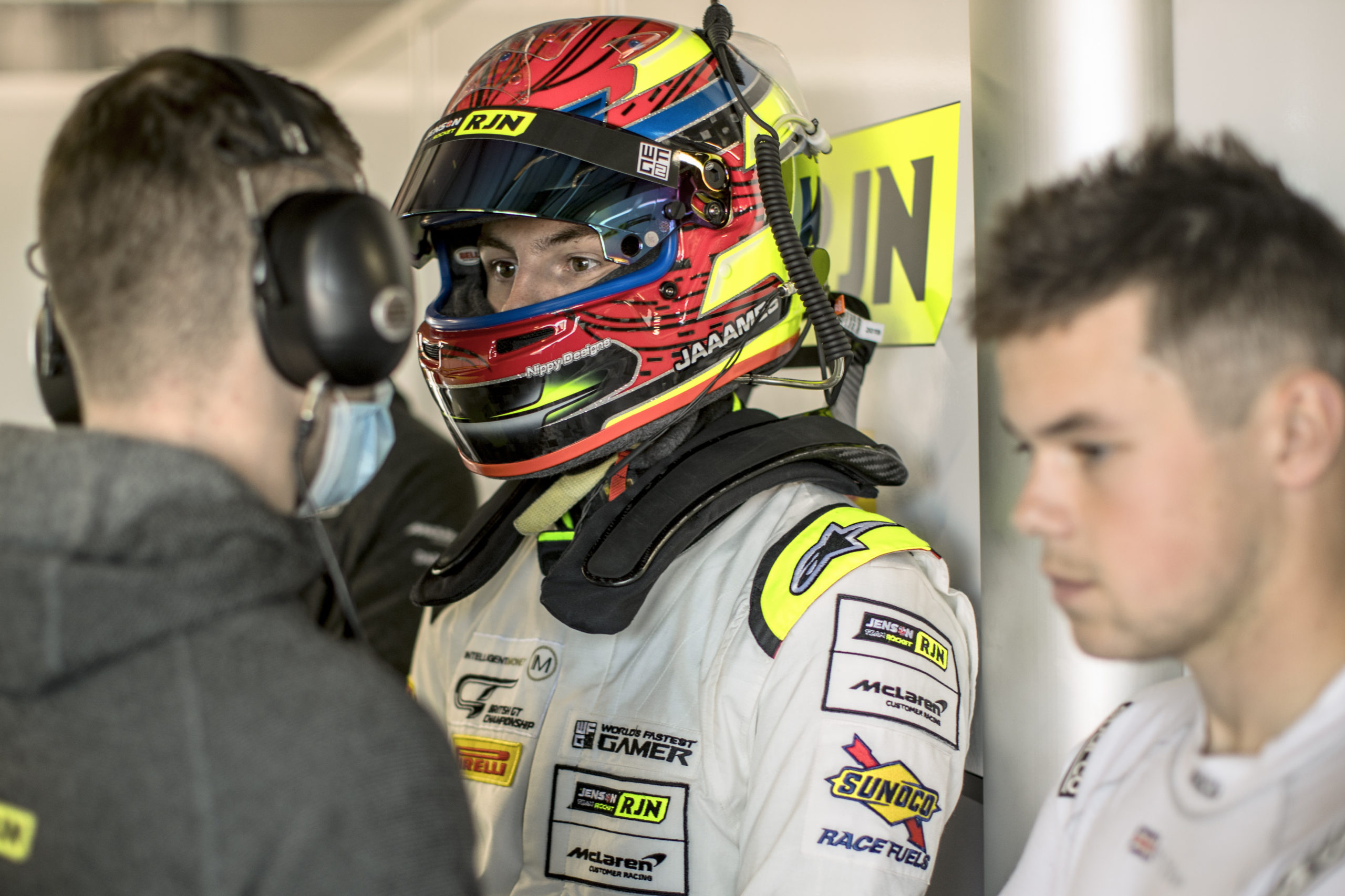 Q: Have you ever been to Snetterton before? What are your expectations?
A: "I have never been to Snetterton, and there's no Friday running this weekend either, so getting up to speed will definitely be a little more challenging with less track time. I've been using Assetto Corsa to dial in some laps on the simulator. My first impression is that it's a really long track! Definitely one of the longest we've been to this year.
"It's quite technical and I've heard it's very low grip. It's quite a bit like Oulton Park as well in that it's narrow, so there's no room for error there. I've also looked at the weather forecast and it's going to be wet, guaranteed, all weekend. That experience from Donington round two will definitely come into play.
"I've been waiting for the next wet event so that we can hopefully get out from under the bad Donington round two event. I feel like I can drive in the wet, but because of the lack of experience it didn't show. Hopefully after this weekend I can come out the other side and really prove that I can drive in the wet, and do so well."
Q: The championship is getting really tight at the top, what is your target this weekend with only two weekends remaining?
A: "There's no point in hiding it, it would be best for us if we could win at least one race and then have a very strong result in the second race, top six or seven. This weekend is the same schedule and setup as Oulton Park with the two sprint races, and we did come away from that weekend leading the championship, so I know it's possible.
"That particular format does suit us, but I really don't know how it will end up. If we're within 15 or 20 points of the leader going into Silverstone, I think we still have a chance. Silverstone should suit our car, and I've been there before, so that should make things a little easier.
"This round is really just making sure we get out of here with enough points to make a dent in the lead."
Q: The level of competition in British GT is quite high this year, how do you see yourself progressing compared to your competitors?
A: "The goal for this year has been to show overall improvement and prove that I can be an overall, complete racing driver no matter the scenario. It's been an honor to race in one of the top GT championships and learn from everyone in the series.
"The silver-rated drivers we're also competing against are really talented drivers. But, the pros are really the benchmark.
"When I look back at the race weekend and how it went, I always look at the average lap times I was turning during the race and compare it to the pro guys.
"At Donington, I was really competitive. I was even a little bit quicker than some of the pro guys, I've definitely closed the gap from the start of the year. So I'm very happy with the way it's been going.
"There's still two weekends left, but so far the progress has been really good. My consistency has gone up, my ability to get on the pace quickly after pit stops has improved, wet weather driving has improved and should show this weekend, racecraft has improved.
"I feel a lot more complete as a driver. Obviously there's still a long way to go and more to learn, but, for being four rounds in, I feel like I've learned so much."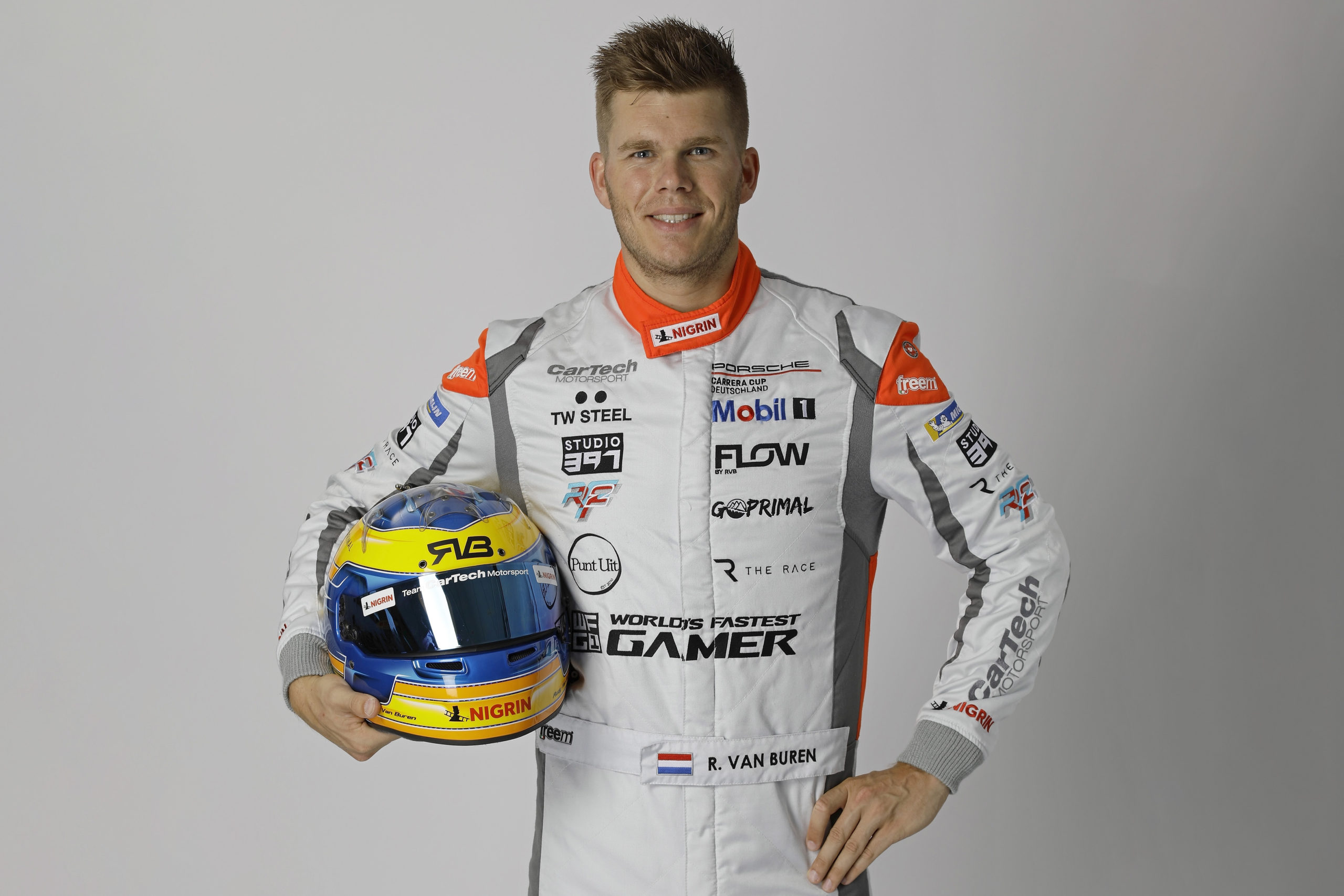 Q: What changes have you guys made since Le Mans and in testing this last week?
A: We've changed a lot. Le Mans was a challenging start, a lot of things went on during the weekend. The car wasn't perfect, the driver wasn't perfect, the team wasn't perfect and it snowballed through the weekend. It seemed to be alright with the comeback in the race, but then there was the contact and we left with a disappointing result.
"We've changed a lot of things, some different personnel, we made some changes in testing, we have a totally different approach for this weekend. I think it's going to improve things."
Q: How did you feel about the level of competition in that very large field?
A: "I think within this type of racing this is really one of the highest levels, and it's one of the most difficult cars to be on top of, but that's the main reason I took this challenge and chose this series to participate in. The level is very high, but I know we'll be competitive. If you look at what we accomplished even with problems in the car, I know the second week will be better."
Q: What were your impressions of Sachsenring?
A: "The Sachsenring is mega cool. It's just one big flowing curve with as much elevation change as a roller coaster! I hadn't been there before this week, but this one will definitely go in my top three coolest tracks I've driven on!
"It might not be the single best track for racing, but from a driving perspective, from sensations and speed-wise, it's super cool."